Strangest Sight of the Night...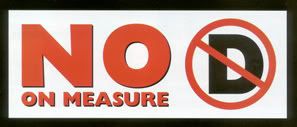 The "No on Measure D" sign on a fenced-off area of the City Place lofts in North SanTana. City Place's developer? Robert Bisno, who gave $40,000 to the Yes on Measure D efforts.
Not only does God have a sense of humor, he protects it via the California Fair Political Practices Commission.

<!­­-- YieldMo Tag­­-->